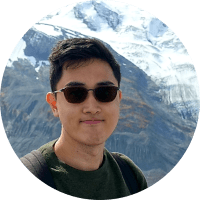 I'm Christopher. Since young, I have always been fascinated by technology. This led me to pursue and complete my bachelor's in computer science.
My interest in tech spills over into my free time. Some of my personal side projects include:
Hosting a personal RSS feed reader, Nextcloud, and various other services on a virtual private server, using Docker 🐳
Creating some simple Android (Java) and Windows (.NET, WinForms/WPF) applications, for personal and family use 👨‍💻
This site 😉
I also enjoy reading both fiction and non-fiction books, playing computer games (especially RPGs), and sometimes just lying around.
Social #
I can also be found on these platforms.
Credits #
This blog was built using Hugo, a static site generator. The theme is all mine, and was inspired by Mitesh's Sakura CSS theme (license). I have also used Nicolas and Jonathan's normalize.css, so I do not have to worry about layouts differing across browsers/devices (license).